« October 2005 | Main | December 2005 »
November 30, 2005
EPA Map of Murphy Oil Spill
Updated Map Info:
The map below was compiled by the EPA and shows the spill area according to Murphy Oil on October 17, 2005 and according to the EPA on November 4, 2005. To make it easier to see, I redid the Murphy border in red.
The full size (11x17 when printed) map is available from the EPA's web site here.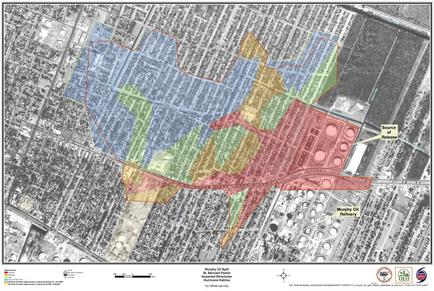 The EPA maps every environmental hazard that happens within the US. As can be expected, they have also mapped the Murphy Oil spill.
The amount of information available on the web site can be overwhelming. This link will take you directly to the map. However, the map is centered on the I-10/610 split. Scrolling to the location of the spill takes a few minutes, just because of the slowness of the site.
The thumbnail below shows a composite of the EPA oil spill area that I compiled. Click the image to get a larger image.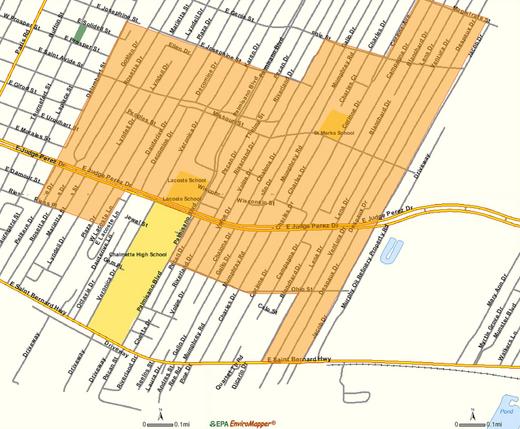 This link will show the oil spill map according to Murphy Oil.
Posted by admin at 7:40 PM | Comments (0) | TrackBack
November 27, 2005
Louisiana Immunization Network for Kids
Over the years, state and federal officials have started requiring parents to immunize their children against many different childhood diseases. Some of these immunizations require multiple doses spread over time and are increasingly required before a child can enter school.
Since 2001, the Louisiana Department of Health and Hospitals has maintained what is called the Louisiana Immunization Network for Kids (LINK). This is a state-wide computer database that maintains the immunization records for children that have been entered into the system. All children that have been immunized through a Public Health Unit have been entered into their database and private doctors have also been encouraged to enter their patients.
To find out if your child has been entered into the LINK program and/or to get a copy of your child's records, you can visit any Louisiana Public Health Unit.
To find the Public Health Unit closest to you, visit the Office of Public Health's website.
You can also try contacting the Immunization Program by telephone: (504) 483-1900.
Posted by admin at 5:14 PM | Comments (0) | TrackBack
November 23, 2005
Government Nepotism at Taxpayers Expense
In the special session that just ended, everyone seems to agree that the biggest failure was the adoption of a bill by Senator Walter Boasso that would have combined all of the regional levee boards into one. After amendments in the Senate that left the existing boards, mainly the Orleans Levee Board, in control of their current interests, minus the levee's, it passed the Senate by a vote of 37-0.
Unfortunately, once it reached the house, procedural moves by Rep. Ken Odinet prevented the bill from ever going into committee, effectively killing it.
This then begs the question, who is Ken Odinet representing? He claimed that he was afraid that levees in St. Bernard would be forgotten about while trying to protect the City of New Orleans. Did Mr. Odinet not see what happened during Hurricanes Katrina and Rita?
The levee break along the industrial canal flooded Arabi, which is his district and where he lives.
Since Mr. Odinet was interested in protecting the Lake Borgne Basin Levee Board, let's look at who is on that board. According to the state's web site, the board has three members: Stephen Ehrlicher (Meraux), George Lopez (Meraux), and Randolph Odinet (Arabi). I think you can draw your own conclusion from here.
Also consider the fact that Mr. Odinet could be considered a lame duck. Because of term limits he will not be able to run for this office again and unless he looks at running for a parish council seat, I would say that his political career is over.
Being that Mr. Odinet most likely will never face the voters again, it may be excusable, but I also think that Sen. Boasso failed in trying to get his bill passed. Although he had strong support from the business community throughout Louisiana, he failed to enlist the support of voters.
I don't think the general population ever heard a good strong argument for the single levee board, so there was a lot of in-difference among voters. Why should the residents of Arabi, who elected both Rep. Odinet and Sen. Boasso, bother calling Mr. Odinet's office to voice their support of the bill if they know nothing about it or why they should support it.
In his two years as a Senator, Mr. Boasso has introduced legislation that would strongly overhaul many of the sacred cows of Louisiana politics. Being a business man, Mr. Boasso usually gets the support of the business community. However, he needs to learn that while businesses contribute to political campaigns, they do not elect legislators. That is done by citizens. Without their support, some battles could be harder than they need to be.

Posted by admin at 8:45 AM | Comments (0) | TrackBack
November 21, 2005
Right of Demolition
If you are interested in having a structure demolished please read the following instructions, fill out the form at the end, and send it to the address provided.
PROCEDURES FOR DEMOLITION OF STRUCTURE DUE TO DAMAGE BY HURRICANE KATRINA
IF YOUR STRUCTURE IS CONSIDERED TO BE UNSAFE, DUE TO STRUCTURAL DAMAGE, SUBSTANTIAL DAMAGED, OR HEALTH ISSUES, THE FOLLOWING IS THE PROCEDURE WHICH MUST BE FOLLOWED TO HAVE YOUR STRUCTURE DEMOLISHED.
YOU MUST COMPLETE A RIGHT OF ENTRY FOR DEMOLITION AGREEMENT WITH ST. BERNARD PARISH GOVERNMENT REQUESTING AND GIVING PERMISSION FOR PARISH GOVERNMENT TO BE AUTHORIZED TO DEMOLISH YOUR STRUCTURE. A FORM WILL BE PROVIDED TO YOU AT THE DEPARTMENT OF COMMUNITY DEVELOPMENT, OFFICE OF DEMOLITION OR A COPY CAN BE DOWNLOADED FROM THE PARISH WEB SITE ( SBPG.NET )
YOU MUST PROVIDE TO ST. BERNARD PARISH GOVERNMENT A COPY OF YOUR CURRENT STATE PICTURE I.D., OR YOUR FORM MUST BE NOTORIZED BY ANY STATE NOTARY.
ALL PAPERWORK CAN BE SUBMITTED TO THE DEPARTMENT OF COMMUNITY DEVELOPMENT, OFFICE OF DEMOLITION, OR IT CAN BE MAILED TO 8201 WEST JUDGE PEREZ DRIVE, CHALMETTE, LOUISIANA, 70043.
ALL INSPECTION REPORTS WILL BE AVAILABLE ON THE PARISH WEB SITE AND CAN BE DOWNLOADED.
CURRENTLY THERE IS NO COST TO THE OWNER TO HAVE A STRUCTURE DEMOLISHED UNDER CONDITIONS MET BY DAMAGE CAUSED BY HURRICANE KATRINA. ALSO, THERE IS NO NEED FOR AN OWNER TO REQUEST THE USE OF ICC FUNDING FOR DEMOLITION.
WE ADVISED ANY OWNER WHO IS HAVING A STRUCTURE DEMOLISHED, PLEASE REMOVE ANYTHING OF VALUE OUT OF THE STRUCTURE AS SOON AS POSSIBLE. OUR STAFF WILL BE PROCESSING DEMOLITION REQUEST AS QUICK AS POSSIBLE AND SENDING THEM TO THE PUBLICS WORKS OFFICE FOR DEMOLITION. NO NOTICE WILL BE SENT WHEN DEMOLITION WILL START.
ANYONE CAN CONTACT OUR OFFICE OR MAIL IN A REQUEST TO DEMOLISH YOUR STRUCTURE BEFORE THE PARISH ATTEMPS TO CONTACT ANY PROPERTY OWNERS. THE PARISH WILL BE CONTACTING OWNERS AS QUICK AS POSSIABLE BY VARIOUS MEANS.
ST. BERNARD PARISH WILL HAVE FINAL SAY AS TO THE STATUS OF ANY STRUCTURE. ANY PROPERTY OWNER THAT WANTS TO REBUILD A STRUCTURE THAT IS CLASSIFIED TO BE 30% OR GREATER DAMAGED MAY SUBMIT STAMPED DOCUMENTATION FROM THEIR OWN LICENSED STRUCTURAL OR CIVIL ENGINEER STATING THE STRUCTURE IS SAFE TO REBUILD, AND A PERMIT WILL BE REQUIRED FOR ANY STRUCTURAL IMPROVEMENTS.
ANY STRUCTURE THAT HAS LESS THAN 30% DAMAGE WILL BE ALLOWED TO REPAIR OR RENOVATE WITHOUT AN ENGINEERING REPORT. IF ANY PROPERTY OWNER OF SAME DAMAGE REQUEST TO DEMOLISH STRUCTURE BECAUSE OF HEALTH AND ENVIRONMENTAL ISSUES, THE STRUCTURE WILL BE RECONSIDERED BY THE DIRECTOR.
ALL DECISIONS MADE BY THE BUILDING INSPECTORS, AS WELL AS THE DIRECTOR MAY BE APPEALED BY THE PARISH COUNCIL.
NO STRUCTURE WILL BE DEMOLISHED WITHOUT THE WRITTEN APPROVAL OF THE OWNERS, OR AN APPROVAL BY THE PARISH COUNCIL. NO STRUCTURES WILL BE ALLOWED TO REMAIN IN DISREPAIR AND UNSAFE OR LAND TO BE ALLOWED TO REMAIN WITH DISCARDED ITEMS, JUNK OR DEBRIS.
MICHAEL D. HUNNICUTT, ASLA
DIRECTOR
DEPARTMENT OF COMMUNITY DEVELOPMENT
Form will open in a new window for you to print
Posted by admin at 10:45 PM | Comments (0) | TrackBack
November 18, 2005
Wind Driven Waters?
Insurance, especially in the aftermath of Hurricanes Katrina and Rita, is a very complicated subject due to amount of legalese that they all contain, so this is my take on things.
Before I do start, let me just remind everyone that I am not an attorney and nothing I say here should be considered legal advice. For truly legal questions, you should consult with your own personal attorney.
Our parish officials have stated from the beginning that the waters were caused by wind driven rain and they have not backed off of this statement one bit. It has dropped off the radar due to other issues that have cropped up in its place.
The main problem is proven whether or not the water was pushed by wind or not. Although not many people stayed behind for the hurricane, a few did and there are rumors of a video that was taken during the storm that shows not only damage dones by the high winds before any rains came, but also of the storm surge from the Mississippi River Gulf Outlet (you can see a picture at the bottom of this page.
As for your Loss of Use coverage, that depends upon your specific policy. If you don't have a copy of your homeowners policy, contact your insurance company and your agent for another copy (be safe and compare the two to be sure they are the same). Also, call your mortgage company and request a copy, although they will probably only have the declaration page which lists the amount of coverage you have and not the fine print.
If you feel like you are not getting anywhere with your insurance company, you can file a complaint with the Louisiana Commissioner of Insurance. His web site, which lists his phone number and also has an online entry form to file a complaint.
http://www.ldi.state.la.us/
Posted by admin at 9:40 PM | Comments (0) | TrackBack
November 13, 2005
White Goods Removal
Different units of the National Guard from Louisiana and other states have been helping residents remove appliances and other large pieces of furniture from homes. There is a waiting list and it may take thirty days or more before a unit can come to your home.
If you would like to be placed on the waiting list, please fill out the information below and someone will be in contact with you as soon as possible.
Posted by admin at 12:05 PM | Comments (0) | TrackBack
Phone Numbers for St. Bernard Parish Officials
Due to Hurricane Katrina wiping out the entire telecommunications infrastructure in St. Bernard Parish, the different government offices had to switch to cell phones and do not have the same number they had before. Below is a list of known phone numbers, which is current as of October 19, 2005.
If you know of any updates, errors, or omissions, please leave a comment in the box below.
Sheriff's Office:
504-281-7766
504-208-0820
504-208-0208
Fire Department:
504-239-9592
Medical Support
888-207-1133
St. Bernard Parish Clerk of Court
504-491-5266
504-884-9271
337-315-5860
Parish Government Services Representative
303-459-6685
303-459-6692
Louisiana State Bar Association Legal Information Hotline - 800-310-7029
St. Bernard Parish Permits - 504-278-4310
Water & Sewer - 504-228-4159
Waste Management - 504-254-5353
Atmos Gas - 504-849-4300
Entergy - 504-329-7921
BellSouth - Business Customers - 866-620-6000
BellSouth - Residential Customers - 866-757-6500
Parish Family Assistance - 866-326-9393
St. Bernard Parish School Board - 877-453-2721
Army Corps of Engineers Blue Roof Program - 888-766-3258
Nunez Community College - 225-216-8335 or 225-216-8342
Gulf Coast Bank - 504-328-3457
Bankone/JP Morgan - 877-242-7305
FEMA - 800-621-3362
Birth and Death Certificates
Louisana - 877-605-8562
Mississippi - 877-295-4229
Alabama - 334-206-5418
Posted by admin at 11:18 AM | Comments (0) | TrackBack