Friday, August 26, 2005 started off calm. We knew Hurricane Kritina was going through the Florida Keys, but she was suppose to turn North towards the Florida panhandle. By 8:00 that night it was a different story.
Katrina was now projected to continue westward and strike the Louisiana coastline with the City of New Orleans in the center of the bull's eye. No one was in panic mode, but everyone within 200 miles of the Crescent City went to bed with a bit of nervousness.
Checking the latest forecast upon waking the next morning, most people started their hurricane preparations. It took until almost Noon for the first evacuation orders to be issued, but everyone was already boarding their windows and clearing the yards of anything that could be flung around in the high winds of a tropical storm.
By 1:00 PM, all essential items for my family were packed and I sent my wife and kids on their way to safety. I stayed behind, along with a neighbor, to finish boarding our homes and to grab the last few items that I wanted to take with me. We still had 48 hours before projected landfall of the storms center.
I spent Saturday night alone at home. Watching the weather forecasts looking for the slightest sign of good news.
Sunday morning I awoke and attended Sunday mass. After mass I finished my preparations, traded cell phone numbers with a neighbor who was planning on riding out the storm, and was on the road to catch up with my family in Thibodaux, LA, about 90 miles from home. What is normally an hour and a half-drive stretched into three hours because of traffic.
Eventually I did reach the home of my wife's family where everyone had gathered to ride out the storm. By that time, there was a glimmer of good news, Katrina had started her long awaited northward turn and began to pick up speed.
Good news for us, since that would leave us on the weaker side of the storms massive eye. Unfortunately, it was bad news for the Metropolitan New Orleans as it would be caught by the full force of Hurricane Katrina.
We went to bed that night, not knowing what was in store for us and was only awakened a few times by the sounds of the high winds. Seven o'clock the next morning had everyone awake as the sound of the electricity in the house disappeared and we were thrust in darkness and silence. No longer did we have the sound and coolness of the air-conditioner to keep us company.
The battery-operated radio was turned on and we listened anxiously for any news of what was happening back home. We listened as stories of windows being blown out and the roof of the Louisiana Superdome stripped off.
Attempts to use a laptop computer to connect to the Internet for a look at any pictures that may have posted failed since we were also without phone service.
But all of this told us nothing about out neighborhood. And it was still too early for anyone who had stayed behind to venture out since the full force of Katrina still had another couple of hours to arrive.
Then the phone calls started arriving at the radio station. A levee was breached and water was flooding the streets of the city, only a few miles from home! We could only hope for the best.
There was nothing we could do where we were, so tried to return to some type of normalcy. We could see that the worst was past us and we started unboarding the windows and bring the lawn chairs back out on to the lawn. We needed a place to sit outside since the house was warming up quickly in the sunshine that usually follows such a devastating storm.
We returned to the radio and started hearing unconfirmed stories of our worst nightmares. Water had flooded into our neighborhood and was standing anywhere from eight feet to twenty feet. Our homes were now under water.
Then the story of another levee breach was reported. Although we didn't want to believe it, the realization that we would not have a home to return to was slowly sinking in.
Another check of the telephone and now we had phone service. Quickly logging onto the Internet and we're able to glimpse limited snapshots of the devastation. We knew now that our nightmares were real. It would be weeks before we could think of returning to the spot that used to be our home.
Our attention then turned to checking in with friends and other family members. Cell phones were useless and we had to resort to email, not knowing how many people would have access to email after fleeing their homes.
Two days later and I have accounted for all but four family members. Three are presumed to be safe, just no way to contact them. The fourth is still missing. Last known contact with them was at 6:00 AM on the 29th, just hours away from the eye of the storm.
With no electricity and rumors stretching from two days to two weeks before it is turned back on, we fled to Texas and the generosity of other family members. A one night stay in a hotel gives me the opportunity to post this message.
This image is of the church where I attended mass the Sunday before the storm. Although it can't be seen in the picture, my house would be just off the lower left-edge of the image.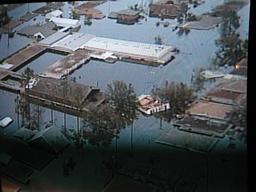 After looking at the plotted path of Hurricane Katrina and comparing it to Google Maps, I can only guess that my house was swept inside the eyewall of Katrina. With everything underwater, there is no way to tell how much damage was done by the winds of Katrina.
I will try to answer some of the questions that have been submitted over the past weekend over the course of the next few days.
Westley